How to convert MBR disk to GPT?
Launch AOMEI Partition Assistant, right click the MBR disk you want to convert and then select "Convert to GPT Disk".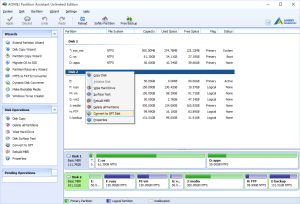 Press "Apply" button on top left toolbar to proceed.
How to convert GPT disk to MBR?
It is similar, right click the GPT disk and select "Convert to MBR Disk", remember to click "Apply" on main window to proceed.