How to delete all partitions with Partition Assistant?
Launch AOMEI Partition Assistant, right-click a disk and select "Delete All Partitions".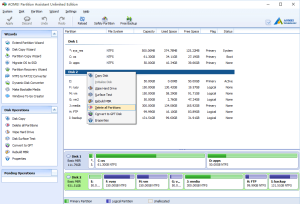 In the pop up window, you have two choices:
Delete all partitions
Delete all partitions and wipe all data

If you select the first option, these partitions will be deleted from Disk Management console, however the files can be recovered by professional data recovery software.
Please be caution to use the second option, as if you delete and wipe mistakenly, all files cannot be recovered again.